Years ago I was in the habit of buying those tiny trays of frozen crushed garlic. They disappeared from the stores for a while, and I forgot about them. When I decided to write this post for you, I did some digging and found out they still exist (at least online), but the ingredient label shows they also contain canola oil and salt, neither of which I want in my garlic. (Here's why you may not want to consume canola oil.)
Anyway, I want to share with you this great garlic-saving trick I've been using a lot lately. If you like fresh garlic in your food but don't like the sticky painful mess of peeling and chopping, then check this out.
When a recipe you have calls for, say one or two cloves of chopped garlic, make a whole head of it. It takes a little extra time but you gain overall efficiency in "mass production."
Break up the whole head of garlic by rolling it firmly around in a kitchen towel (these are my favorite). Go ahead and be aggressive with it, you're going to chop it up anyway!
Take a small knife and start chopping off those hard stubby ends. When you're all done, take a large knife and press-smash the garlic with the side of the knife. The peels will start to pull away and fall off.
Pull out the raw garlic cloves and either put them in a mini-chopper or set them aside in a bowl. Discard the detritus. Chop the garlic to desired size either by hand or in the mini-chopper.
Set aside however much you need for tonight. Put a scoops of chopped garlic into the cells of a small ice cube tray , then wrap the tray in plastic and freeze.
Once  frozen, pop them out of the tray, and place in an air-tight container back in the freezer for later use.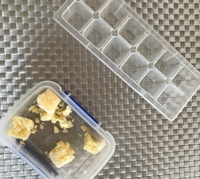 Garlic's health benefits are huge! A natural gut healer, anti-oxidant, and pre-biotic, you can't go wrong with using a lot of garlic in your food.