This cucumber salad is made with miniature English cucumbers. They're not expensive and you don't have to peel them. This makes a great little side salad, and it's crunchy enough to hold up til tomorrow so you can have the leftovers lunch.
3 miniature cucumbers or similar amount of pickling cucumbers
1 small shallot or piece of sweet onion
1/2 medium tomato (or more to your liking)
oil and vinegar
Italian seasoning blend
Prep your space:  Get out a medium cutting board, a knife, and a small bowl. If your garbage can is not nearby, have a little plastic bag open next to your work space for scraps.  Grab your steel and give your knife a quick sharpening.
Wash the cucumbers since you'll be leaving the skin on. Wash the tomato too if you haven't already.
Cut the ends of the cukes off, and then slice them at a diagonal, very thinly.  About an eighth of an inch or less.  Toss them into the bowl.
Peel the shallot and cut off the hard end. If using onion obviously you can skip that part.  Slice as thinly as possible.  A very sharp knife makes all the difference here.  Scrape the pieces up with your knife and bang them in the bowl as well.
Cut the tomato into smallish wedges.  Into the bowl they go.
Shake some Italian seasoning onto the vegetables.  This is where you have to judge for yourself how much seasoning you like.  If you're not sure, start with 1/4 tsp, mix it in, and look at it.  That's about as much as I use, but you might like more or less.  It's OK to guess, the world won't end if you add a little too much.
I use olive oil and white wine vinegar, but you could use regular oil and apple cider vinegar.  It's a different flavor in the end, but we're not talking gourmet here, we're just trying to get dinner on the table.  About a tablespoon of vinegar and a teaspoon or so of oil should do it.  Mix it up, taste one, and add more if you like.
Put the bowl (with spoon) into the frig to sit while you make the rest of your meal.  Maybe you could stir it once or twice if you remember.
This is my favorite summer go-to salad.  Hope you enjoy it!
Step 2: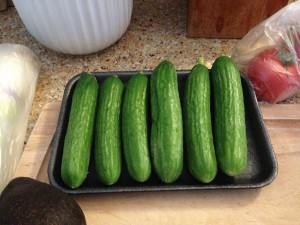 Step 6: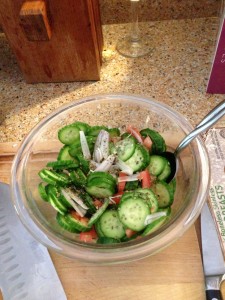 Yield: 2 Cups
Prep time: 10 minutes
Calories: Hardly any