"Pour the dressing around the sides of the bowl, and then, using your hands, gently push the greens into the dressing to coat them. You want the greens glistening, not limp. Once the leaves are dressed to your liking, gently transfer them to a plate." – Bobby Flay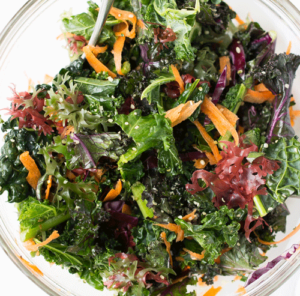 There's this strange ritual I've seen people go through when they get a salad at, say, a cafeteria or takeout lunch spot. These are the salads that come in a clear plastic container, along with the dressing in a sealed pouch or cup. The customer opens the container, opens the dressing pouch, pours the dressing on the salad, closes the container, and then proceeds to shake the bejeezus out of the container, turning it every which way during the process. Then they reopen the container and proceed to gracefully eat the poor scrambled salad.
I tried this once and it's certainly more efficient than using a flimsy plastic fork to stir in the dressing, which usually results in a lot of the salad ending up on the table or floor. The solution I prefer is to pour some of the dressing on the salad, mix that little part and eat it, and then pour some more of the dressing on, rinse and repeat. A little more time consuming but it gets the job done and seems like a more respectful way to treat your food.
When at home however, with plenty of time and a big enough bowl, Bobby Flay's gentle massaging method is definitely the most loving and artistic way to dress a salad that I've ever come across.
And don't you just love his description? The word "glistening" is so perfect — you can just see the gorgeous leafy greens and smell the aroma of the imported olive oil coating them. Mmmm.