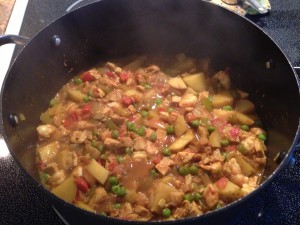 This fantastic low-fat dish is easy to make and is a definite crowd-pleaser. My husband could not get enough of it.  We loved it so much we were glad we didn't have company that night and could save the leftovers for ourselves!
Ingredients:
2 Tbsp grapeseed or olive oil
1 pound leftover cooked turkey, chopped in to small pieces
1/2 large sweet onion
2 stalks of celery
1/3 red pepper
1/3 green pepper
1 jalapeno pepper (optional)
3 cloves of garlic
2 large Yukon Gold potatoes
2/3 cup water
1 Tbsp curry powder or garam masala
1 teaspoon turmeric
1 teaspoon cumin
1 teaspoon ground coriander
4 Roma or other plum tomatoes
1 cup fresh or frozen peas
1/2 cup chopped cilantro
Directions:
1 Chop the onion, celery, peppers, and saute in vegetable oil over medium-high heat in a large pot. Stir and sauté for 4-5 minutes, or until the onion begins to color a bit.  In the meantime, peel and chop the garlic and set aside.  Scrub the potatoes and cut them into 1/2 to 1 inch pieces.
2 Add the garlic, stir and sauté for a minute or so.
3 Stir in the spices, water, and the potatoes, and cover the pot with a tight lid. Turn the heat down to medium-low and simmer for 20 minutes.  The potatoes should be tender.
4 Add the chopped turkey, diced tomatoes and peas. Mix well and cover the pot. Cook 2-3 minutes.
5 Stir in the chopped cilantro and remove from heat.
Serve immediately with a simple cucumber salad or leafy green salad.
Note: The version in the photo has shrimp in it as well as the turkey.  I added it because I didn't have quite a pound of turkey but I think I would have preferred it with just turkey.