I adapted this skillet lasagna recipe from Cooking Light magazine to turn it into a healthier version of this great comfort food. Don't let the tofu scare you, it's the texture that counts and the creaminess of it more than makes up for the lack of ricotta cheese. It takes on the flavor of the sauce so well your kids may not even notice (one can always hope anyway)!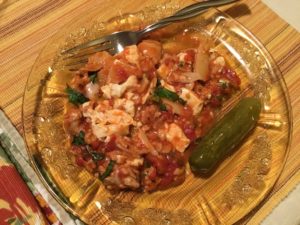 Yes that is a pickle. When I was growing up we always had pickles with our Eye-talian spaghetti. I can't shake it. I also need to learn how to take better pictures at night. 🙂
Mince garlic and set aside.

Cook meat in a large (12″) nonstick skillet over medium-high heat, breaking it into pieces with a wooden spoon, for about 5 minutes (until cooked through).

Drain meat and return to skillet.

Stir in garlic, red pepper flakes and 1/2 tsp salt and cook over medium-high heat until fragrant, about 30 seconds.

Break the lasagna noodles and scatter them into the skillet. Then pour marinara sauce and water over the top.

Bring to boil then reduce heat to medium low and cover. Let simmer, stirring often, until noodles are tender, about 20 minutes.

(Meanwhile, grate cheeses, mix, and set aside.)

Remove skillet from heat and stir in half of the cheese blend. Season with salt and pepper if desired.

Dot heaping spoonfuls of tofu over the noodles, then sprinkle with remaining mozzarella and parmesan.

Cover and let stand about 3-5 minutes. (Chop basil while waiting.)

Sprinkle basil over dish just before serving.