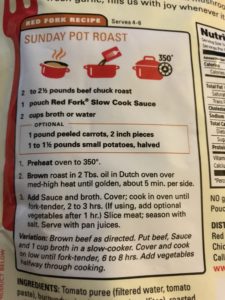 As soon as I get a chance to post my photos of the actual food, I will.  Hopefully by this weekend.

Chop beef into stew size (large bite size). Turn oven on to 350F to preheat.

Preheat dutch oven (or large frying pan if using slow cooker) on the stove on high heat. Add olive oil and brown beef for 5 minutes. Do this in batches so you're not crowding the meat. Add more oil by the teaspoon if needed.

Cook in dutch oven in oven at 350F for 2.5 hours, or in slow cooker for 7 hours on low.

Scrub and chop parsnips into large pieces. Add parsnips and carrots to the pot half-way through cooking time.

Test meat after time suggested -- it should be falling apart. If not, leave in a little longer (20-30 minutes).