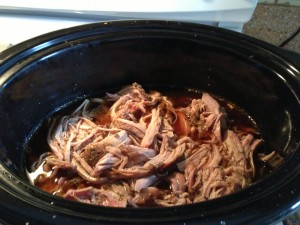 The original version of this recipe received 733 reviews with an average 4.5 star rating on allrecipes.com.
My version of these yummy slow cooker carnitas is spicier and has a stronger Indian flavor.  You will also need to start it one day ahead but I promise you it is worth it!  You can either start it the night before and eat it the following night, or start it in the morning and eat it the following day.  Either way it needs to sit in the frig for 8-10 hours before cooking.
Here we go!
2 – 2 lb pork tip roasts (Costco, $2/lb)
2 C beef broth (either pre-made or bouillon is fine)
Seasoning mix:
2 t garlic powder
2 t cumin
1 t oregano
1 t ground coriander
1 t chili powder
1 t pepper flakes
1 t salt
1/2 t ground cinnamon
Mix the seasonings in a small bowl. Set aside.
Set the crock from your 5-quart slow cooker next to your workspace, with the lid off.
Remove all packaging from pork roasts, rinse and pat dry with paper towels.
Holding 1 roast in your hand, slowly sprinkle half the seasonings onto the pork, a little at a time, while rubbing them into the meat.  It's easiest to use both hands to rub the pork. When done your pork should be evenly covered all the way around with seasonings.
Put the roast in the crock and do the same with the other one.  They should be nicely nestled next to each other in the crock.
Cover the crock and put it in the frig for 8-10 hours (I do it overnight).
8-10 hours later, pull the crock out of the frig and put it in the cooker base.  At this point I generally wait an hour to bring it up to room temp, but you don't have to if you don't have time.
Cook on low for 8 hours.  Check it and if it's not falling apart, cook for an additional hour or more until it is.
Let cool slightly, then pull it apart and serve it on whole grain rolls with the beef juice for dipping.
Some embellishments for the sandwiches might include sweet onions, barbecue sauce, pickles, cole slaw, olives, chutney, and the like.  Please no ketchup or mayo (unless your kids insist :-)).
Note:  You could make this in the morning, put it in the frig all day and then let it cook all night.  The next morning just stick the crock in the frig until you're ready to eat, pull the pork apart, and heat it all up in the microwave.
For a gluten-free version, serve with corn tortillas or gluten-free bread.
Makes 10 servings at 225 calories each.  With the roll it's 400.