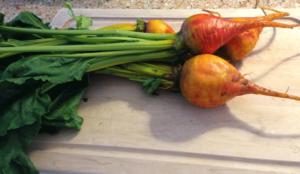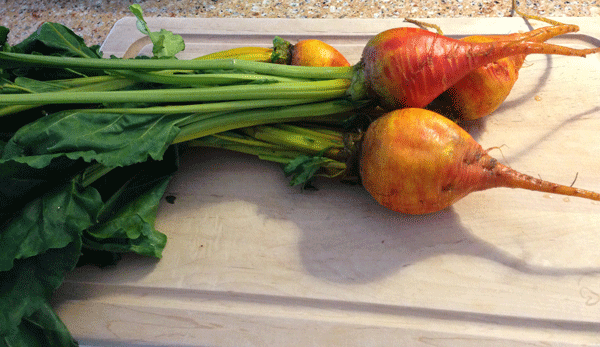 Beets are the ultimate in nutritional usefulness.  Each part of the beet is nutritionally useful, and even the few small parts you don't want to eat can be fed to your garden in the form of compost.
Golden beets are beautiful and sweet, and according to some sources are much lower in starch than their red cousins.  So if you are reducing starch in your diet for health reasons, golden beets are OK!  Also, red beets are a pain with their sheer redness, which gets all over everything in your kitchen.  I've already got stains on everything from all the turmeric I'm consuming, and add the red "blood" from beets and I've got sunset-colored cutting boards and wood-handled knives, not to mention my hands…  Ah the price for health.  But I digress…
Beets can be divided into three uniquely useful parts: the roots, the stems, and the leaves.
Roots: The root bulb is the most deliciously sweet part of the plant.  The easiest way to cook the beet root is in foil packets on your grill (btw you can skip the peeling step and eat them with the peel on).  Another way is to simply peel them and steam them, then drizzle with a little olive oil and salt and serve warm. Continue reading "Beets – A Lesson in Frugality" →