This is one of my favorite ways to use up leftovers at the end of a week. It was inspired by those assembly line-style, create-your-own-salad restaurants that are popping up like weeds in malls across America.
Start with the base, usually lettuce or rice (I prefer lettuce), then just add a bunch of healthy add-ins (leftover items from your frig) and top with a homemade vinaigrette. It's a perfect "clean out the fridge" meal.
The thing to remember here is that you are going for a balance of colors, textures, and macro-nutrients. Try to use ingredients that have not been previously seasoned, so you won't have strange combinations of seasonings from different meals. (Hey, if you want to try that anyway, go for it, sometimes you hit the jackpot.) Try different things! Experimentation is good — it teaches you what works and what doesn't work — it helps you improve your ability to "throw a meal together."
So, enough preamble. Let's get to the instructions already.
Pull a bunch of ingredients out of your refrigerator and if you need more, go ahead and dive into your pantry and select some things that might work in a salad. Now that everything's sitting on the counter, stare at it for a minute and imagine it all in your mouth at once. Does it taste good, or are you like "what was I thinking?" Put back anything that doesn't seem right.
Now, grab some big shallow salad or vegetable bowls from your cupboard. The bowls in my pictures below are simple vegetable serving bowls. Also get out your cutting board and a big sharp knife. If the knife is not sharp, take a minute to sharpen it. Don't skip this step!
Start putting (chopping first if needed) the various vegetable-based ingredients around the edge of the bowl, kind of like pie slices, leaving some room in the center.  The more colorful the better.  Your base should be the largest pile.  That's generally your primary ingredient, like lettuce or super greens, but could also just be more crunchy vegetables.
If desired, add a healthy whole-grain such as brown rice, wheat berries, farro, quinoa, or anything else that floats your boat. Add 2-3 ounces of lean lean protein in the middle of it all.  This could be a perfect vegetarian meal using garbanzo beans, tofu, or hard-boiled eggs.
Put a bottle of homemade salad dressing <link> on the table and let each person dress their own salad. [Hint: avoid pre-bottled salad dressings unless you are sure that all the ingredients or wholesome and healthy. Read this article comparing various salad dressings for more information. <link>]
The pictures below show one example of what you can do with this wonderful versatile all-in-one-bowl meal. The possibilities of combinations are endless as you can imagine!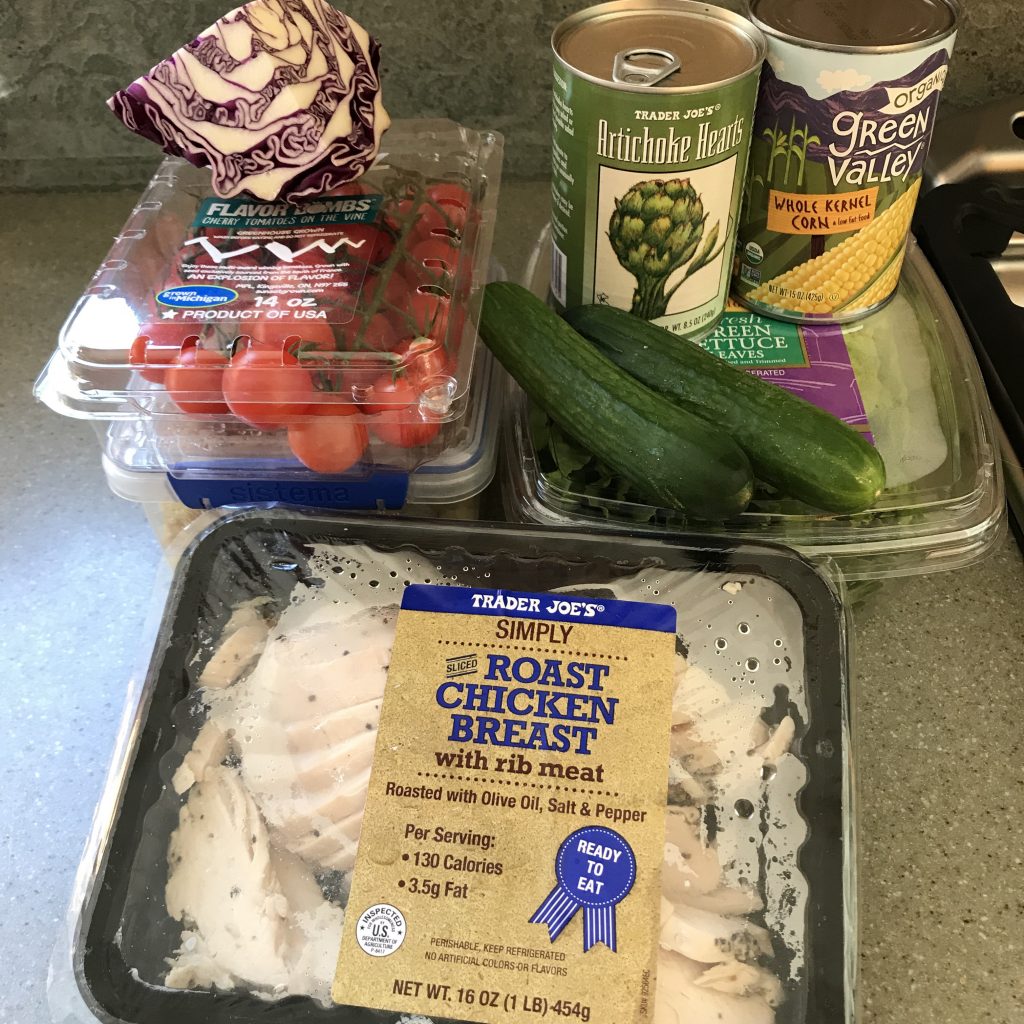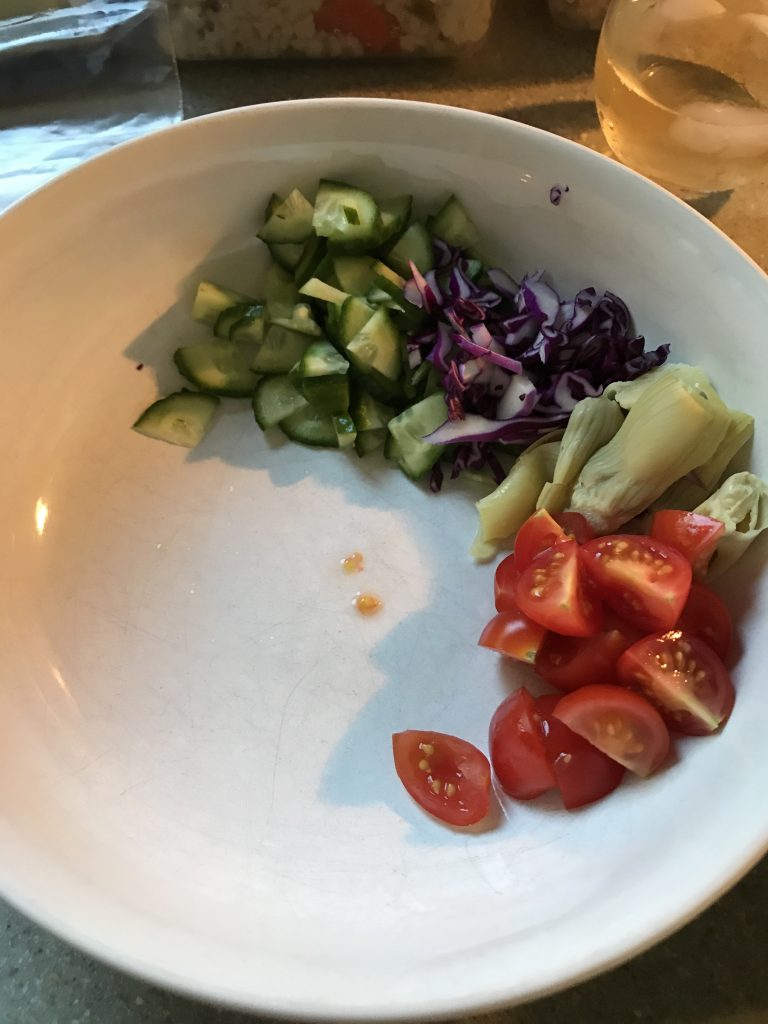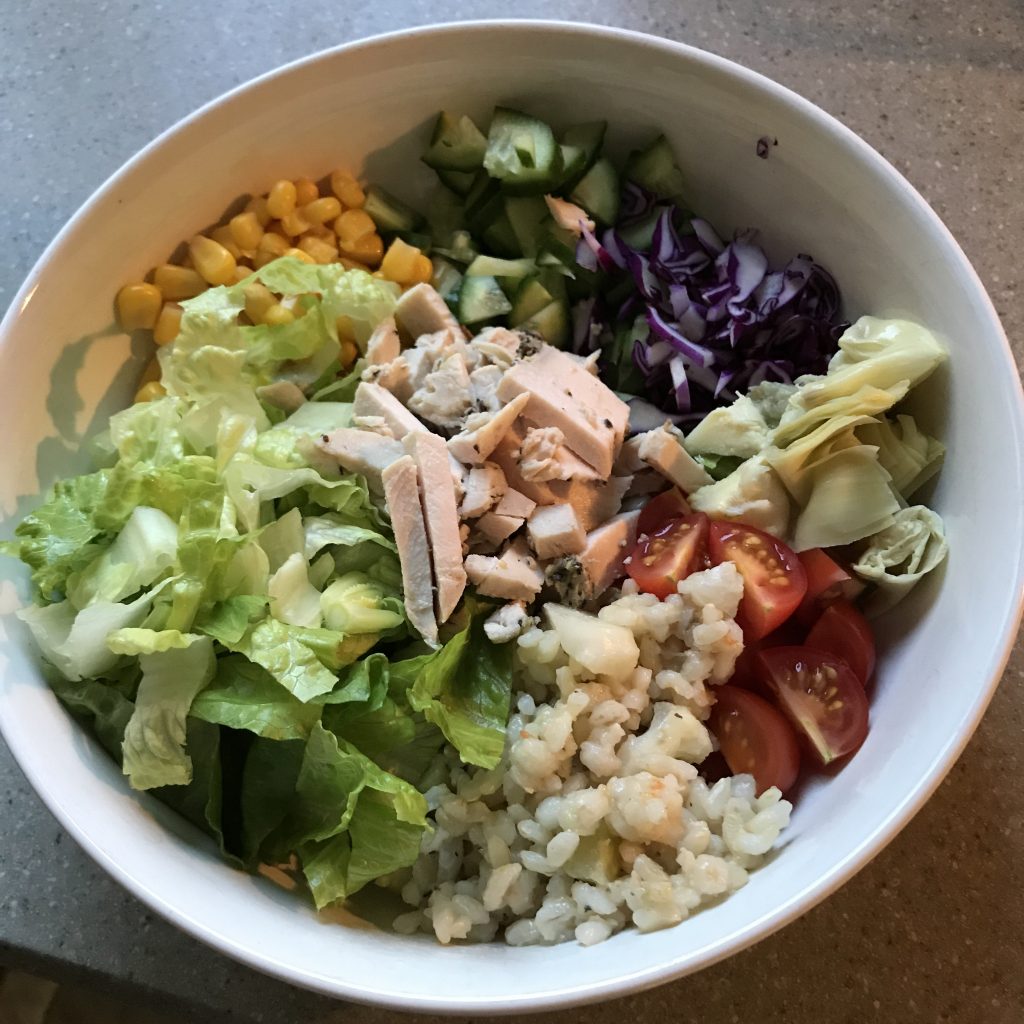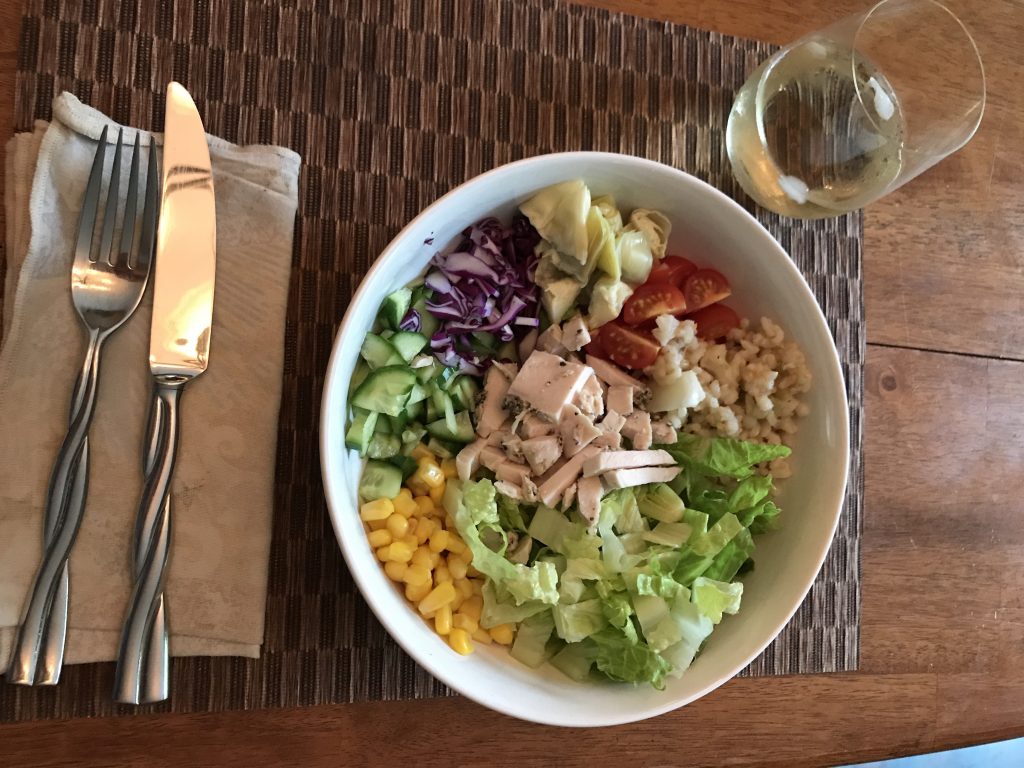 And if all else fails, try this "formula" for building a bowl, from Cooking Light magazine: