Serves: 4 people
Hands-on time: 25 min
Total time: 35 min
This recipe started as a much higher-calorie version of chicken piccata from Cook's Illustrated magazine. I replaced the all purpose flour with millet flour to make it gluten free, omitted the shallots and parsley, used pre-minced garlic, and reduced the quantities of oil and butter by almost half. The result is a healthy chicken piccata that is much lower in calories while still retaining the delicious flavor. The spinach at the end was also my personal touch, which I think makes the dish more complete (and prettier!). [Side note: The original recipe was way too lemony for my taste so I cut that back as well. Feel free to add more lemon back in if you like it that way.]
Ingredients
2 lbs boneless skinless chicken breasts (about four breasts)
1-1/2 lemons
1/3 C millet flour or brown rice flour
2-1/2 T grapeseed oil or olive oil
1 T minced garlic (about 3 cloves)
1 cup low-sodium chicken broth (can substitute 1/4 C with white wine)
1-1/2 T unsalted grass fed butter (soften at room temperature)
1 T drained capers
1 lb box of spinach
Tools
1 medium sharp knife
1 med + 1 small cutting boards
12″ skillet
spatula
whisk (or fork)
1 gallon-size food-grade plastic bag
1 or 2 tiny bowls or cups (or use pieces of paper towel)
citrus juicer
1-cup liquid measuring cup
1/3-cup solid measuring cup
set of measuring spoons
medium sized oven proof serving dish
large spoon for serving
wire rack
Directions
[See pictures below.]
Cut each breast  in half crosswise. Then take the thicker portion and slice that horizontally in half to make two thinner cutlets. [You will end up with three cutlets per breast.] Place in gallon size bag and add 1-1/2 tsp salt and 1/2 tsp pepper. Close bag with as much air in it as possible and shake the bag to toss the chicken around inside. Open the bag and let it sit while doing the next 2 steps.
Cut two lemons in half crosswise, and save one piece for later use by wrapping it in plastic and putting in the frig. Optional: Take one half and trim off the end.  Cut into 1/4″ thick slices and set aside.  Juice the other two lemon halves.
Spread the flour out in a shallow dish.  Dredge each chicken cutlet piece in the flour, shake off excess, and set on a wire rack.
Add 1 T of oil to the skillet, and heat on medium-high.  Place half of the cutlets in the skillet and turn the heat down to medium.  Cook until golden on one side, flip and cook until golden on second side, about 2-3 minutes per side. Remove to rack, then add 2 more tsp of oil, turn up the heat, and do it again with the remaining cutlets.
Add remaining oil to skillet, and then add garlic to pan and cook, stirring, for 30 seconds.  Add broth, lemon juice, and lemon slices to pan and bring to a simmer, scraping up any brown bits stuck to the bottom of the pan.  Let simmer for about a minute.
Add cutlets to sauce and simmer for 2 minutes.  Flip and simmer 2 more minutes.  Remove pan from heat and transfer cutlets  to a shallow serving platter, leaving the juice in the pan.
Add butter to pan and whisk lightly to infuse the butter into the sauce.
Add capers to sauce, stir in gently and pour sauce over chicken.
Put skillet back on heat, and turn to medium low.  Add spinach to pan and stir constantly until spinach is wilted, about a minute.  Nestle the spinach into the corner of the platter of chicken.
Serve with brown rice, crusty whole grain bread, or steamed potatoes.
Tips and Timesavers
If your butter is hard from the frig, cut it up into small-ish pieces and put it into the sauce cold.
Purchase chicken cutlets instead of whole chicken breasts.  Then you can eliminate the first half of step 1 and place the chicken right in the bag.
Use as many dishwasher-safe tools as possible.  Plastic cutting boards or sheets, ceramic knives, and a metal juicer can all go in the dishwasher right when you're done using them.  It keeps the sinks and countertops clear and reduces the post-dinner cleanup time.
You can stretch this even further if you add more sides, such as a tossed green salad or a side of steamed carrots.
Nutrition (g)
Serving Size: 1/4th of recipe
Calories: 404
Protein: 53
Fat: 19
Carbs: 3
Fiber: 0
Sugar: 1
Photos
Ingredients and Tools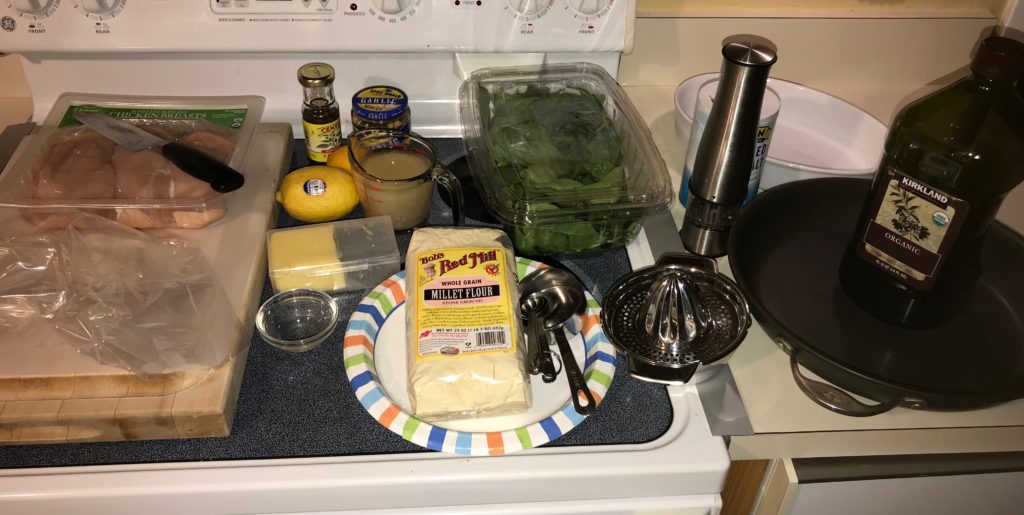 Step 1 – Cut chicken in to cutlets and season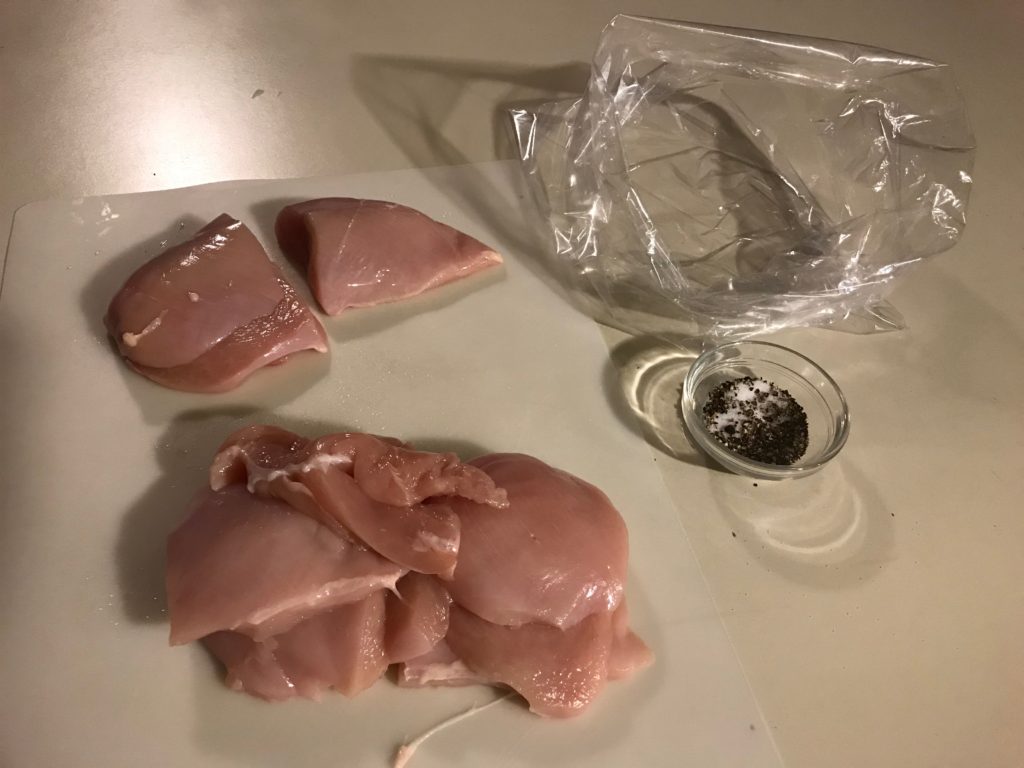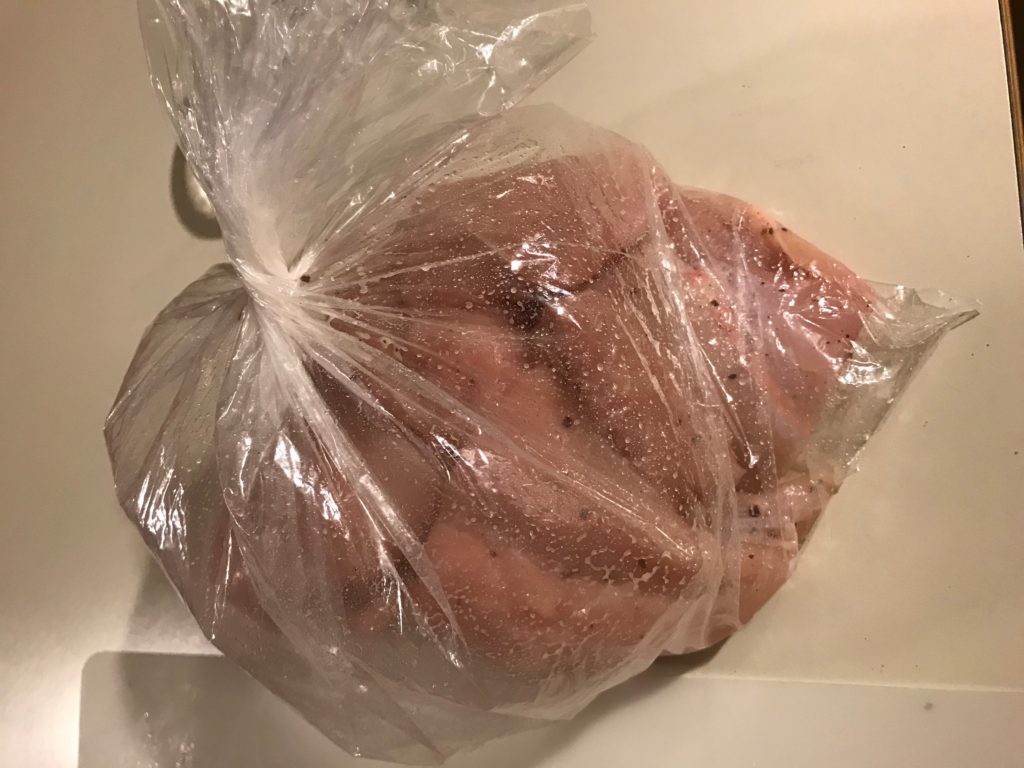 Step 3 – Dredge chicken in flour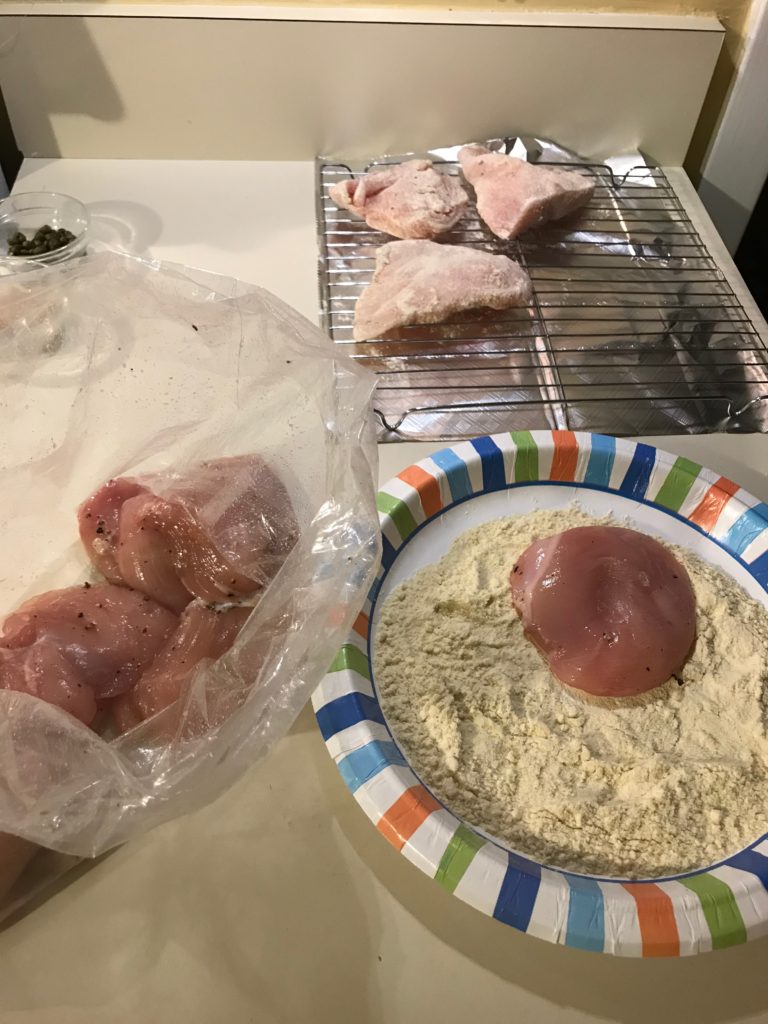 Step 4 – Brown cutlets
Step 5 – Make sauce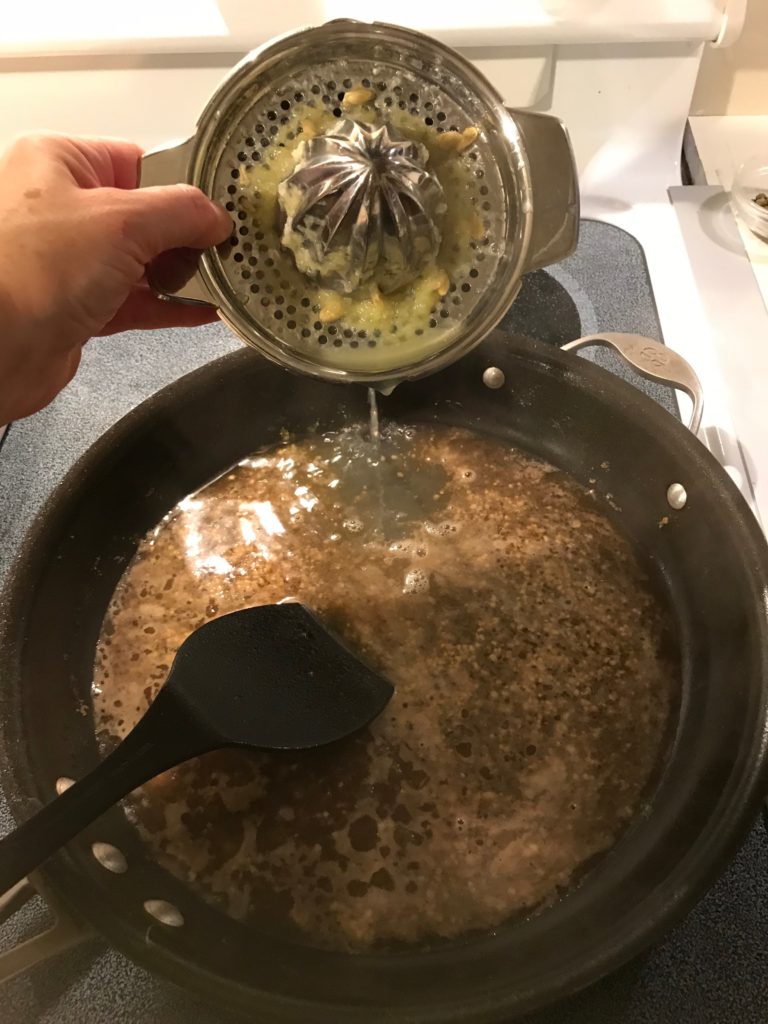 Step 6 – Simmer chicken in sauce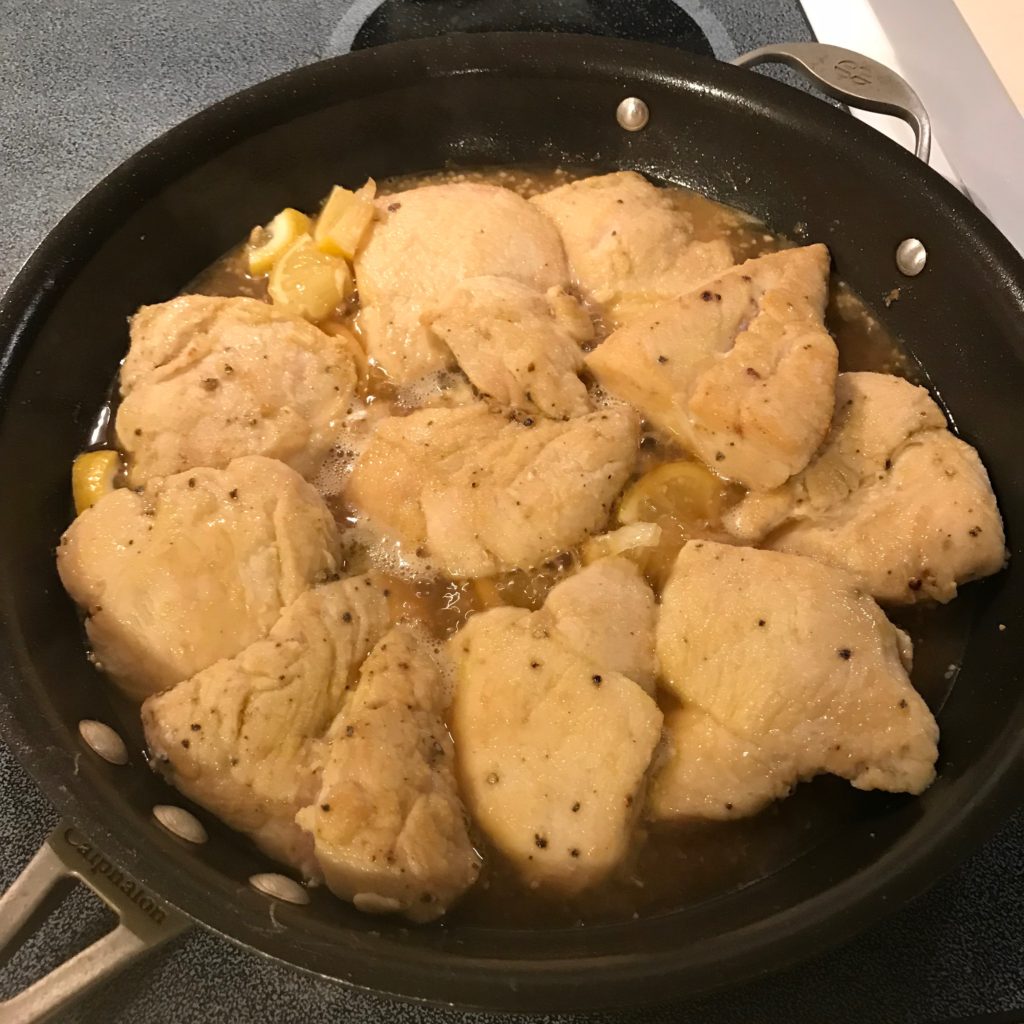 Step 9 – Wilt spinach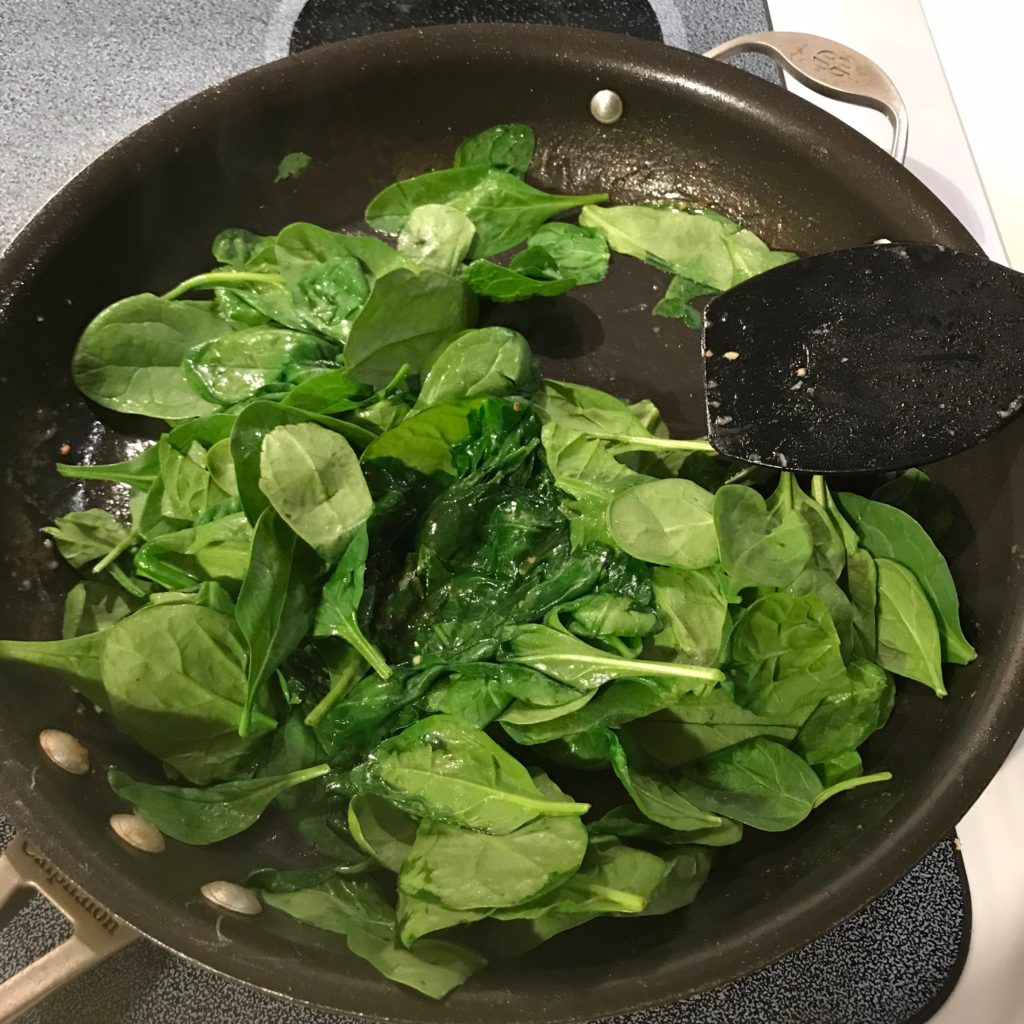 Healthy Chicken Piccata – Yum!