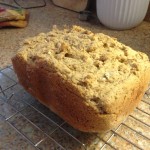 I made this bread for Easter dinner. I should not experiment on a holiday I know, but Trader Joe's was closed and I wanted a nice bread that wasn't white and processed, and ideally gluten-free. Gluten-free bread takes too long because it's not bread machine friendly, so I concocted this mash-up of 1/2 regular whole wheat and 1/2 gluten-free bread recipe for the bread machine. It's not perfect, but it was good enough for Easter dinner.
1-1/2 C water, warmed in microwave
2 T oil
2 T honey
1 egg
1 t salt
1/8 C ground flax
2/3 C almond flour
1 C brown rice flour
1 C masa de harina
2/3 C Whole wheat flour
2/3 C white bread flour
1/2 C potato starch
1/4 C fat free milk powder
1 t xanthan gum
1 T yeast
Put in bread machine in this order, or in the order recommended by your particular machine. It's a 2lb loaf however it comes out small and dense so a smaller machine could probably do it. Just make sure to put it on Dark crust so it will get a longer cooking time than a 1-1/2 lb loaf.
Eating notes:
– Tasty but not very sweet.
– Dense but makes good thin slices that toast well
– It freezes also freezes well.
Things to try next time…
– try 3 T ea oil and honey
– more flax meal
– lighter starch?
– replace almond flour with something else… spelt?