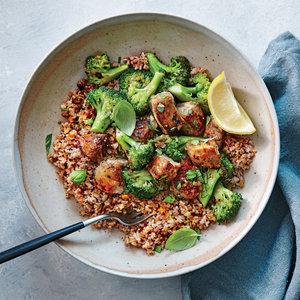 Serves: 2-4 people
Hands-on time: 20 min
Total time: 40 min
I made this Pork Loin with Pears recipe last year when I found it on the Williams Sonoma website and it was "quite good" or at least that's what I wrote in my notes. It just so happens that we received a box of Harry and David pears for Christmas this year and I'm looking for something to make with them, so decided to try this recipe again.
I changed a few things this time around. Since I wanted to create a larger quantity of pork, I bought a 3-lb pork loin roast instead of the 1-lb loin the original recipe called for. Obviously this big roast was going to take much longer than the 1-lb loin, so I sliced it into three pieces and increase some of the other ingredients to compensate. Some of the pork is going to be saved for later in the week so I didn't need to triple the pears and such, just the seasonings and browning oil.
Anyway, here's the recipe. I think it makes a great-tasting but easy Sunday night meal. Continue reading "Roasted Pork Loin with Pears" →
This Puerto Rican Roast Pork (traditionally called "Pernil") recipe was inspired by a friend many years ago who taught me the deliciousness of the cuisine of Puerto Rico.
Note: the pork needs to be seasoned the day before cooking. Make sure to note this in your meal plan on the day before you plan to cook and serve it.